Apply to be a FOOT LEADER 
Every fall at Yale, groups of eight to ten incoming freshmen and two leaders set out on four and six-day backpacking trips in the woods of New England during the week before classes begin. These trips give freshmen a chance to form new friendships, enjoy the outdoors, and, most importantly, share a positive experience that will help them start Yale on the right FOOT. The application to become a FOOT leader and help make this magic happen is HERE.
Applications are due in the Saybrook Head of College Office by 5:00 pm on Thursday, February 2nd. Please email the FOOT student coordinators, Meg and Taylor, with any questions, comments or concerns.
Looking for the FOOT Leader Recommendation form? Search no further, the link is HERE.
---
What is FOOT? First-Year Outdoor Orientation Trips!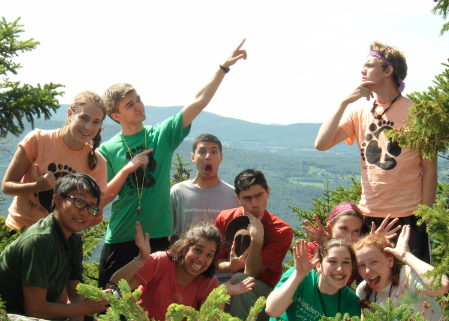 We invite you to join us for an experience that many students say is one of the most formative and important of their time at Yale. On FOOT, you will sleep under the stars, share stories and songs around the campfire, create a new tight-knit community of friends, enjoy discovering the Northeastern landscape, and spend time discussing what life at Yale will be like.
FOOT offers a unique wilderness experience to 400 incoming Yale freshmen and transfer students each year!  In late August, trained upperclassmen lead preorientation backpacking trips to five scenic locations throughout the Northeast.
You do NOT need to be an experienced backpacker to participate in FOOT.  FOOT is for everyone and is an appropriate (and exciting!) choice for students from all backgrounds.  The trips are designed to all levels of experience – both novices and skilled mountaineers will find them rewarding.  The primary goal of FOOT is to help ease the transition into life at Yale. You will find the hike both exciting and rewarding!
Online registration for FOOT will become active in the Spring of 2017. We are excited for you to apply!
---