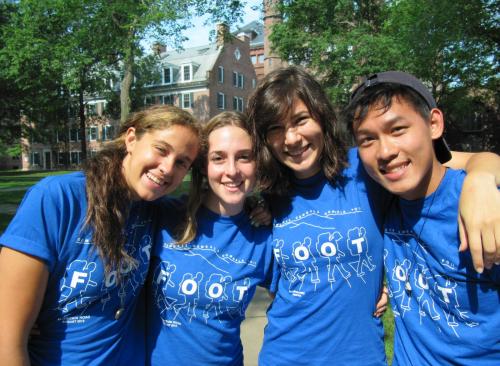 We will expect you to arrive at Yale at 2:00 PM on Saturday, August 17 for the 6-Day Trips or Monday, August 19 for the 4-Day Trips. Please check in at the Old Campus on College Street where your FOOT leaders will greet you! We will be hard to miss! You will be given your FOOT T-shirt as you check in.  You will meet your group and review some of the basics for the trip. We will have a pizza dinner and then some introductions. We will spend the first night in one of the dorms on the Old Campus.
The next morning we will rise early, have a simple breakfast and then leave for the trips.  You will be back on campus around noon in time for the campus orientation program that begins on Friday, August 23.         
You will not be able to enter your new room for the fall until you return from the trips.  Yale has a storage space shortage and so we ask you not to bring anything with you except your hiking equipment and a small bag with a change of clothes in it, which is clearly marked on the outside with your name. You will be able to store this small bag, but this is all. Please ship the rest of your belongings by air express or by bus (they will store it until you return for a small fee), or have your parents drive up the rest of your belongings on Friday. Please refer to the booklet you received from the Dean's Office in May concerning shipping your belongings.  We are sorry for any inconvenience. Don't let this prevent you from coming!! We always work out any storage issues. Let us know if there is one. If you have to drive your belongings up early, we will find space!