Covid - 19 Program Update 
First-Year Outdoor Orientation Trips (FOOT) is an orientation program of backpacking trips for entering Yale students led by two upper level students. This year due to COVID-19, backpacking trips are no longer an option, but a virtual version of the program will fulfill many of the same goals. We anticipate groups of around eight first-years, with two leaders. Students come together and form a tight bond of lasting friendships, and they create a close group that supports them during the oncoming years. The participants will also hear about college life first-hand from the older students. The goals of the leaders are to create an atmosphere of trust and inclusiveness, and to ensure the well-being of each first-year. It is the mission of FOOT for students to get in touch with themselves and the environments that surround them, and to foster an appreciation for nature and public lands.
The time commitment for the program will be 3 hours a day for 4 days from Monday, August 17 to Thursday, August 20. The program will consist of fun icebreakers and games, education about outdoors spaces/public lands with a focus on social issues, and time for the group to get to know one another. Groups of about ten – two returning student leaders and 8 incoming first-years will meet for no more than three hours in a day. FOOTies will also have opportunities to do activities outside of group Zoom calls, like open-air meditation walks and one-on-one check-ins with leaders. We plan to have the theme of the week be "environment." Days will be specially dedicated to "the environment of person," "the environment of home," "the environment of learning," and "the environment of Yale/New Haven," focusing group activities and discussion around each of these questions as FOOTies get to know their leaders and each other. If Connecticut COVID-19 conditions allow, socially distant hikes within one's FOOT group may become a possibility as the semester progresses. 
Monday through Thursday, your group will meet at 3 different times for one hour each. The choices of times (in eastern time) are as follows: 
Choice 1: 1 pm, 4 pm, 9 pm

Choice 2: 2 pm, 5 pm, 8 pm

Choice 3: 3pm, 6pm, 9pm

Choice 4: 4 pm, 7 pm, 10 pm
For more information, please watch this recording of a Zoom panel where current pre-orientation student leaders answer questions from incoming first-years.
What is FOOT? First-Year Outdoor Orientation Trips!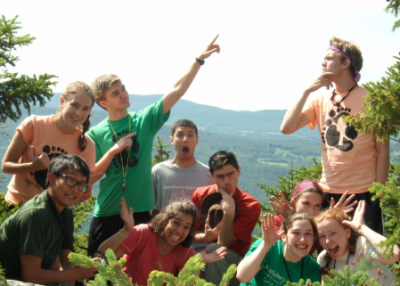 We invite you to join us for an experience that many students say is one of the most formative and important of their time at Yale. On FOOT, you will sleep under the stars, share stories and songs around the campfire, create a new tight-knit community of friends, enjoy discovering the Northeastern landscape, and spend time discussing what life at Yale will be like.
FOOT offers a unique wilderness experience to 400 incoming Yale first-years and transfer students each year!  In late August, trained juniors and seniors lead pre-orientation backpacking trips to five scenic locations throughout the Northeast. It doesn't really matter where you go–as long as you do FOOT you will have tons of fun. We will cure all those nervous jitters about going off to college. You will return to Yale with friends that often last a lifetime!
You do NOT need to be an experienced backpacker to participate in FOOT.  FOOT is for everyone and is an appropriate (and exciting!) choice for students from all backgrounds.  The trips are designed to all levels of experience – both novices and skilled mountaineers will find them rewarding.  The primary goal of FOOT is to help ease the transition into life at Yale. You will find the hike both exciting and rewarding!