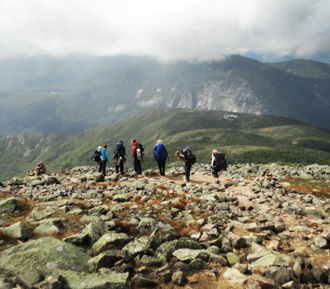 Vermont trips expose FOOTies to some of New England's most beautiful woodlands, the forested hillsides that make up Vermont's Green Mountains. Many peaks have rocky outcroppings, and stepping into clear open mountaintop air after a hike through the woods is like entering another magical world. Vermont FOOT trips follow the Long Trail through Vermont's Green Mountain National Forest, where it overlaps with the Appalachian Trail. Built in the years 1910 -1930, the Long Trail is the oldest long-distance footpath in the United States and runs the length of the state - 273 miles through the Green Mountains.
FOOT trips in Vermont range from moderate to rigorous. The terrain is generally gentler than that of the whites, but at nearly 4,000 feet, Vermont's taller mountains can present a rewarding challenge for the trips that climb them! Some of the six-day trips will have long days of hiking, with the reward of mountaintop views of the surrounding countryside. Four-day Vermont trips are some of the more rigorous four-day trips offered by FOOT.
For more information about the Long Trail of Vermont and the Green Mountain Club which maintains it, please visit the website of the Green Mountain Club or the Green Mountains National Forest.