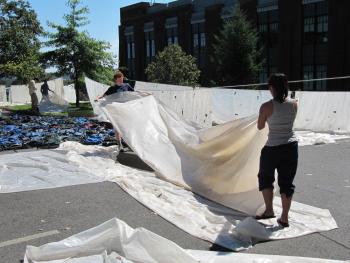 Please read the equipment list carefully. Download this from our webpage.  Remember to look in your attic or basement before you go to the store.  You will be a great help to us if you can bring your own equipment or borrow from friends. 
The rental fee for sleeping bags is $25 and for backpacks is $25.  If you didn't already reserve this equipment, you may contact the summer coordinator. The one piece of equipment that you will have to purchase if you do not already own is a good pair of hiking boots.  We do not mean fancy, expensive boots, but boots that have ankle support and thick soles.  You can find decent boots at the army-navy store.  The important thing is that you purchase these early in the summer and wear them in well before the trips begin.  Blisters can ruin the trip for you and your group.  We cannot emphasize this enough.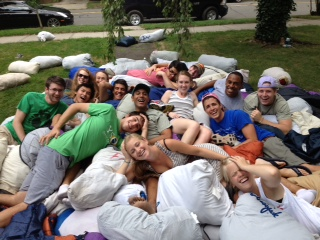 Please make sure you have plenty of wool, a wool sweater, hat, gloves, etc.  The nights are chilly.   When you arrive at Yale, your leader will check all your equipment.  If you are lacking something, you may have to make a trip to the store and purchase it.  It is a good idea to double-check your equipment before you come to Yale.  We have FOOT mugs for sale.  Bring extra $$.
When you pack up your backpack, make sure there are no rips and that it packs tightly.  Use the nylon straps or rope to secure your sleeping bag or whatever else you have attached to it.