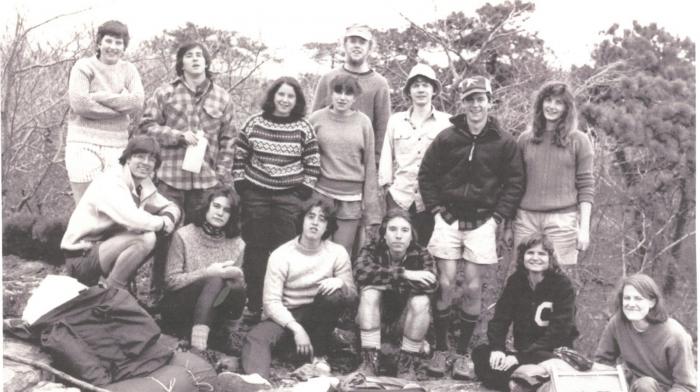 The first FOOT leaders, after the program was started in 1984.
FOOT was started in 1984 by two undergrads, Jamie Williams and Greg Felt. They had both just completed a NOLS course and were excited about the prospect of introducing a similar experience as an orientation for incoming first-years. With a group of like-minded students —the first CORE— they started talking to administrators about the possibility of starting such a program. The administration was skeptical at first, and told them to seek out someone they could hire as a coordinator. This would lead them to Cilla Kellert, a NOLS graduate, former Outward Bound instructor and Yale Forestry School graduate, who has been with the program since it started.
At the beginning, FOOT was very small: just 12 leaders on 6 trips to the Catskills. The model they came up with, however, would come to define the FOOT experience — 4-6 day backpacking trips led by two co-leaders, who help to bring a sense of community and fun to the whole endeavor. When students return to Yale, they are pumped to begin college- having had a tremendous experience in the great outdoors and having formed friendships that will last for the next four years and beyond.
FOOT Today
Nowadays, FOOT runs 75 trips each fall, staffed by over 180 leaders! Our stomping ground has expanded, too – we backpack not only in the Catskills, but also in the Green Mountains of Vermont, the Berkshires of Massachusetts, the Delaware Water Gap, and all along the Appalachian Trail in Connecticut, Massachusetts, and New York. We have also hiked in the Adirondacks, the White Mountains of New Hampshire, and Yale's Union Forest. The original model is still intact, and that spirit of shared adventure, unforgettable experiences, and lasting friendships is as strong as ever.